Incident management is the process of managing the life cycle of all incidents or unplanned events. With a focus on workplace incidents, Incident management aims to investigate deviations, map the impact on business, and implement best practices to restore normal business operations.
At Alpha Plus Technologies, we define incidents as events that cause disruption, deviation, or reduction in the quality of service and hence, require immediate attention and action.
In the post-COVID era as organizations face global and local challenges in an extremely volatile economic, health, and geopolitical environment, organizations are gearing towards establishing Incident Management protocols that can help maneuver the organization on track toward business continuity and corrective action to mitigate the impact.
Is Incident Management important at my workplace?
Incidents come in many types with a wide range of consequential impacts: safety incidents, accidents, near misses, failings in our work environment, non-compliances, abuse of discretionary powers, IT security incidents, etc. Some common categories are enlisted below: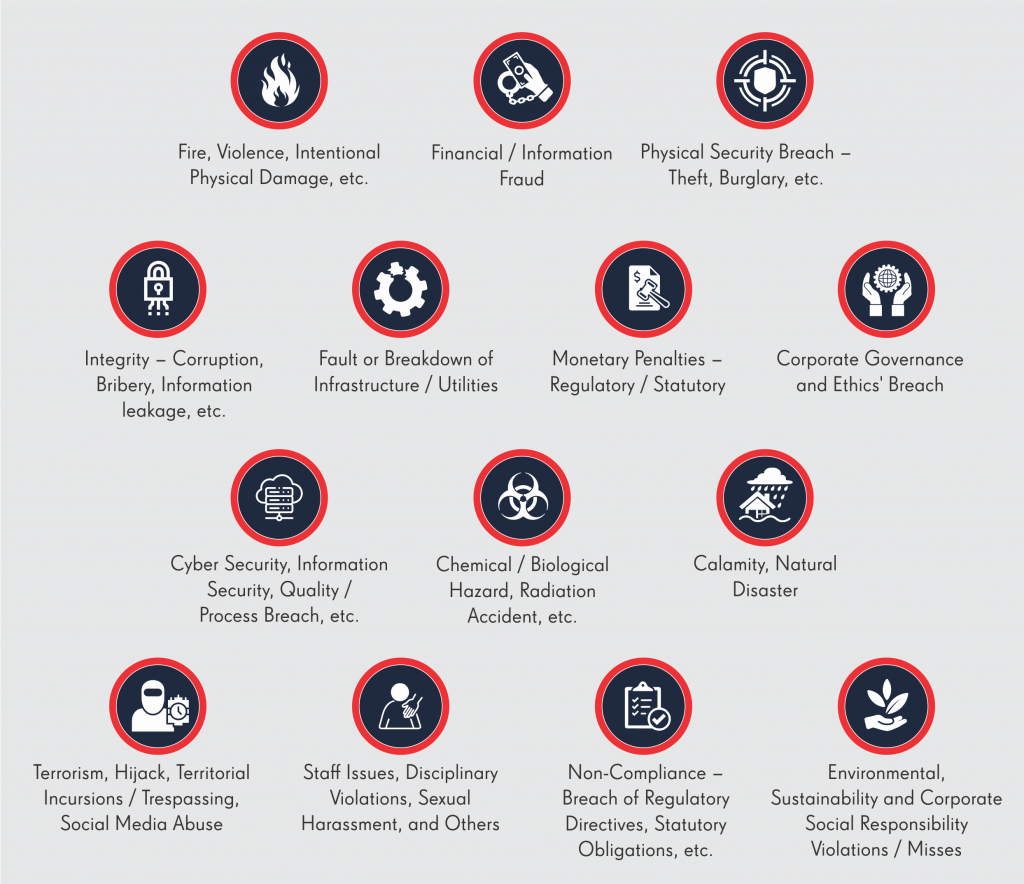 How to manage Incidents?
Organizations need good Incident Management mechanisms to safeguard themselves from losses, decreased equity prices, and tarnished brand reputation resulting from incidents / near-miss outages.
Good incident management restores faith and positive customer sentiments in the management, reinforcing the Company's approach and outlook towards learning from mistakes and converting them into growth and improvement opportunities.
Here are some things you could do to establish a robust Incident Management process:
Report & detect incidents, before your customers/public comes to know
Set up an Incident Reporting & Respond Program

*

to be organized & better prepared for any incidents
Investigate & analyze the root cause of these incidents
Learn from incidents & ensure the possibility of repeated incidents is minimum
Strengthen control structures to safeguard your tomorrow
While there are many ways in which one can set up their Incident management processes, establishing a central portal for Incident Reporting, Investigation, and Tracking of corrective actions, has proven to be the most effective way as it:
Promotes proactive reporting at the grassroots level, by easing the confusion on where and to who to report the various incidents,
Help track TATs on incident investigations,
Provides complete transparency of incidents occurring across the organization be it in the same office, city, country, or the world,
Aids in measuring and collating the losses incurred,
Generates various trends which aid in systemic and quality improvement of organizational processes.
Learn how IncidenTrack+ can help you cater to your Incident Management needs. Deep dive into the world of incident management, watch our video here
Disclaimer: All views, thoughts, and opinions expressed in the blog/article belong solely to the author, and not necessarily to the author's employer, organization, committee, or other group or individual(s).